At the end of March, the actress Emilia Clarke, known for her role as Daenerys Targaryen on the celebrated series Game of Thrones, recounted in an article in the magazine The New Yorker who had suffered two aneurysms after filming the first season of the series. Now, about to premiere the eighth and final season of HBO fiction, the interpreter is promoting it in some interviews, and in one of them she has shown how those operations were and her time at the hospital.
That happened in early 2011, although Clarke hasn't recounted it until eight years later. Now, in an interview with el programa CBS Sunday Morning, the actress has shown three images of that operation. In the program you can see the evolution of the young woman, from when she was a child who already liked to get on stage until she became the Mother of Dragons.
During the interview, host Tracy Smith asks about that "February 2011, when you had the worst headache you can remember." "Yes," she recalls, "I was in the gym and in my brain I felt a click, like a rubber band when it breaks. Like a huge pressure inside me and I realized that I could not stand or walk. In I knew that moment I was suffering from brain damage, "recalls Clarke.
Luckily, the doctors managed to find the problem in time and she recovered very well, being able to reach the second season of the series. "It was like: 'Really, it's something very small, I'm fine," he recalls now laughing about how he returned to filming. "And yeah, he was really much better, six weeks later he was on set." However, they discovered another aneurysm for which she had to be operated on two years later.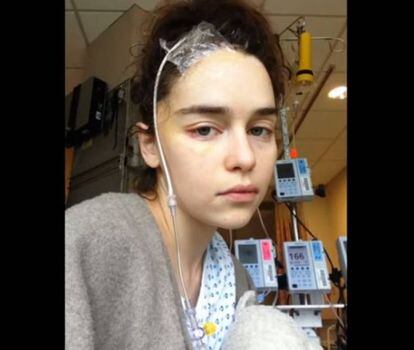 "That's when my brain almost died. If a part of your brain has no blood for an instant, it dies, it stops working. So I had that. And I don't know why it happened. And [los médicos] They did not know what it could have affected, if it was concentration … I always tell them that it affected my taste with men, "laughs the actress during the interview. More serious, she confesses that she thought it had affected her ability to act. "For a long time I thought about it. It was a great fear. What if I can't act anymore? It has been my reason for living for a long time. "
The recovery process from the first operation was "difficult, but the second was much harder," says Clarke. "I went through a period of being very low in spirits, the truth," he says. "But you come on set and you have to play that huge woman, and you have to go through fire. I think that saved me from turning my mortality around," he smiles.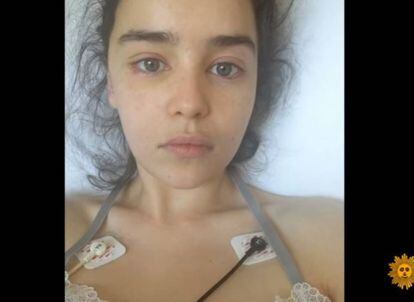 Now the actress has decided to start a foundation called Same You that helps those who have suffered strokes and brain problems to have access to adequate rehabilitation. "I am going to put my soul, my heart and my whole body in changing the aftercare for the sick and in giving visibility to these problems that go so unnoticed."
At 32, the actress now faces a new stage. Already affirms to be "totally out of danger", and faces the goodbye of the series. "I have lived so many things throughout these ten years of filming working on the series … I not only say goodbye to a character, I also say goodbye to my twenties," he says with a grimace. "It's as exciting as it is sad. I can't wait to see everything that comes out of this decade. I literally can't wait."
We wish to give thanks to the author of this article for this outstanding web content

Emilia Clarke, from 'Game of Thrones', shows the photos in the hospital after her brain operations