The mayor of Santa Fe proclaimed May 22, 2016, to be Lowrider Day. The occasion was a New Mexico History Museum exhibit celebrating lowriders and lowrider culture in Northern New Mexico. Lowriders from miles around cruised to the Plaza to show off their cars. In the years since then, a group called New Mexico Lowrider Arte and Culture has honored the day each May by holding a lowrider show downtown. Last year, the event was canceled. This year, they're moving and expanding the event.
The New Mexico Lowrider Arte and Culture Exhibit opens at Santa Fe Place Mall from noon to 4 p.m. on Saturday, May 1, with a public car show, lowrider exhibition, and art show. The event also features food, musical entertainment, and a lowrider hopping contest.
"The car show is outside. Anyone with a nice car who wants to participate can come," says Sin Vargas, co-founder of New Mexico Lowrider Arte and Culture. "Lowriders, classic cars, European cars, motorcycles — anyone who wants to show up and show off that day."
Inside the mall is an exhibition of lowriders and lowrider-related art that is on display inside the mall through June 30. The cars and art are displayed in empty retail spaces near the food court. The art show includes car pinstriping and designs, tattoo art, painting, photography, wood burning, and model cars, as well as lowrider bicycles and motorcycles.
"This is the first time we're doing an art exhibit," Vargas says. The DJ and professional fundraiser found his way to lowrider culture through work, and says he plans to get his first lowrider soon. "We wanted to try something different, because of COVID."
The indoor lowrider exhibition features 13 tricked-out cars and trucks, many of which are well-known at lowrider car shows and in the lowrider community. Among them is Mike Roybal's "Going to Xtreemz New Mexico," a gold 1978 Cutlass Supreme emblazoned by a candy-apple red "505."
A newcomer to the scene is Mi Carruca, a Candy Magenta 1978 Pontiac Grand Prix that's making its official debut at Santa Fe Place. It was built by Fernando Ortega, 39, of Albuquerque. With his purple 1981 Chevy El Camino, he's known as the five-time hopping champion of the annual Albuquerque Super Show, but Mi Carruca belongs to his wife, Francine Ortega, 36. (The name is a tongue-in-cheek combination of Spanish slang — ruca, meaning "girlfriend" and carucha, meaning "car.")
"We haven't even driven it since it was finished," Fernando Ortega says. "We have it in a storage facility, but we're excited to bring it up to Santa Fe. That's where I'm from originally."
A gem in the weeds: In 2005, Fernando Ortega saw a 1978 Grand Prix parked in a yard between Albuquerque and Bernalillo, just a rusting yellow bucket filled with weeds and trees. He approached the owner and asked to buy it, but he was told that it had too much sentimental value. (The man had bought the car new, for his wife, who died of cancer a few years later.) Over several months, Ortega showed him pictures of other cars he'd built, and eventually convinced him to sell him the car for $1,300. Ortega cleared out the brush, put in a new battery and a little gas, "And that puppy started right up." Later, the owner returned the money. He said he didn't want it; he just wanted to see the car rebuilt. But the Ortegas haven't been able to locate him to show him the finished car.
#1 – Modifications: Mi Carruca has a brand-new, 350-horsepower engine. The seats were pulled out of a 2007 Mitsubishi Eclipse and converted for the Grand Prix. (Fernando chose them because they were the same size as the Grand Prix seats but could recline. "Cars that old don't recline. They just push forwards and backwards.") Every bit of the car has been rebuilt, chromed, and has hand-engraved scrollwork, including the engine. "The bumpers, the grills, the light bezels — everything was plastic. We manufactured a replica of the grill in metal, then plated it with nickel, copper, and then chrome. The engraving is thousands of hours — on the bumper, fender, wheel wells, door handles, rear axle, the A-frames, window trim," Fernando Ortega says. "But the most radical modification is the hydraulic system. No one has this in the state of New Mexico." The hubcaps are Zenith, "One of the most popular rims out. They were about six grand. All hand-engraved."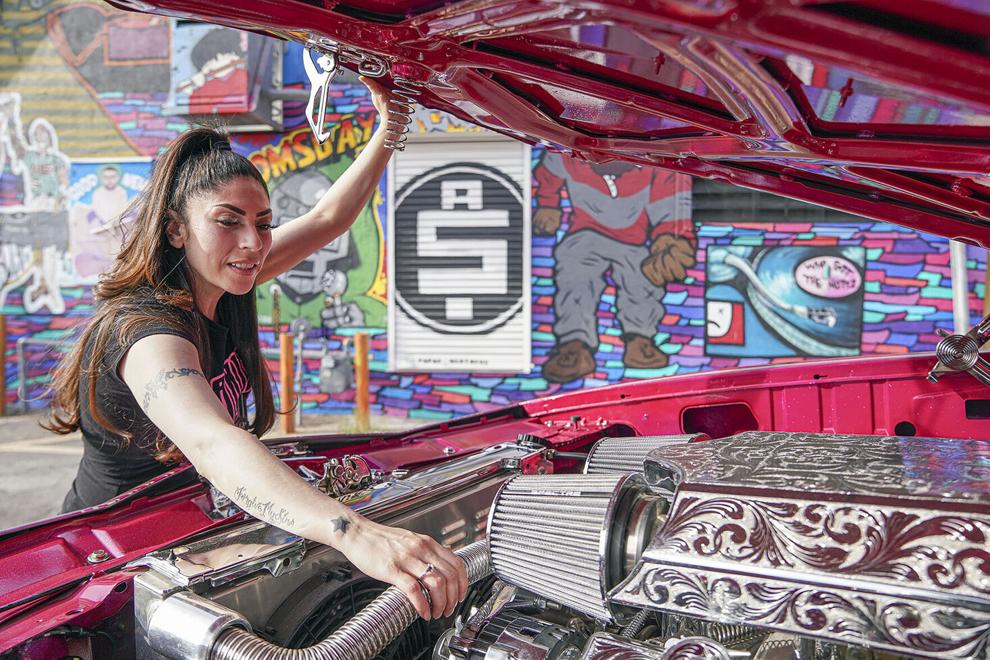 #2 – It's Francine's car: The first time the Ortegas rebuilt the car, Fernando paid for everything. He has built more than 20 cars, many of which he sells to collectors outside of the United States. ("That's where the big money's at.") The car's first build had a basic pink paint job, a white interior, and hydraulics. People thought it was cute that her husband built her a car, which Francine didn't appreciate. She insisted they rebuild it, and this time, "He put it together, because I don't know how to do any of that stuff, but I paid for everything my own self. It was lots of hard work. I've been a Zumba instructor for 10 years. I'm an Herbalife distributor. I sell Paparazzi jewelry online. There's a lot of sweat in that car."
PRETTY IN PINK: Fernando executed Francine's vision for a classic lowrider, advising her on designs and color schemes. The rebuild took about four years. Because he leads Taking Over Car Club, and owns King of the Streets Hydraulics and Accessories, labor was free, while paint, engraving, and other modifications were done at cost by friends and family. He estimates that rebuilding the car a second time should've cost about $100,000, but they did it for $35,000.
A Grand Prix family: Francine Ortega's parents got into lowriding when they were teenagers, and she grew up in the culture. Her parents had a '76 Grand Prix, and she always thought she'd get something similar. Fernando Ortega's first car was a '77 Grand Prix. His father initially built it for his older brother, then repainted it and fixed it up for Fernando when he was a teenager.
"Most teens want to hang out, smoke pot, have drinks. They gave me that car for me to keep my mind on the right path. When you have a car to build, they cost money. So, instead of buying a six-pack of beer, you spend that money on a part of the car. That's been the model for years. Now I have a three-year-old son, and I'm going to teach him the passion so he can do the same thing."
Their other car is a Ford Expedition: Fernando Ortega is the five-year reigning hopping champion of the Albuquerque Super Show with his Candy Purple 1981 Chevy El Camino. In 2019, the last time the show was held, he took the Lowkey Belt by hitting 130 inches to stand the car on its back bumper. But for everyday driving, the Ortegas have a 2012 Ford Expedition. "A lowrider is a Sunday cruiser, go cruising on the weekend. The Expedition is practical for every day," he says.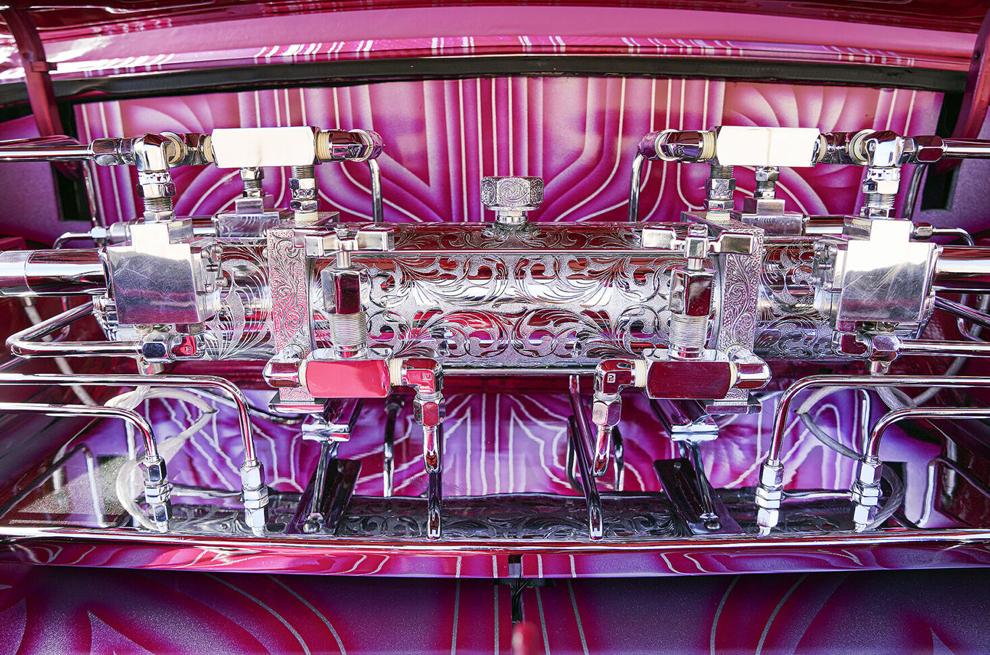 #3 – Fernando Ortega on what makes a lowrider: "Rims, hydraulics, candy-colored paint, new interior, and a chromed-out engine. You also need the passion in your heart. You have to be a lowrider to build a lowrider car." Above, the hydraulic switch panel.
Barbie's Dream Lowrider? "Honestly, I would be more of a Bratz doll," says Francine Ortega.
Living the dream: Fernando Ortega's dream car is a 1963 Chevy Impala convertible, and he's currently rebuilding one. He's three years into the project, and about 50 percent finished. It's painted Voodoo Violet, and he has yet to give the car a name. "Every nut and bolt on that car is two-tone chrome and gold-engraved," he says.
Always in progress: "There's so much to add that you can never finish a car. Fran's car, I said it was finished, but I find so many things that I still need to do. We do upgrades," Fernando Ortega says.
The hardest part of redoing any car: "Waiting for the painters. They take so long. It takes patience. By the time you finish a car, you've beat up your painter, your upholstery man. You're dealing with a bunch of talented people. I just got into an argument with a guy working on my Impala. Time is precious, but it always comes out good."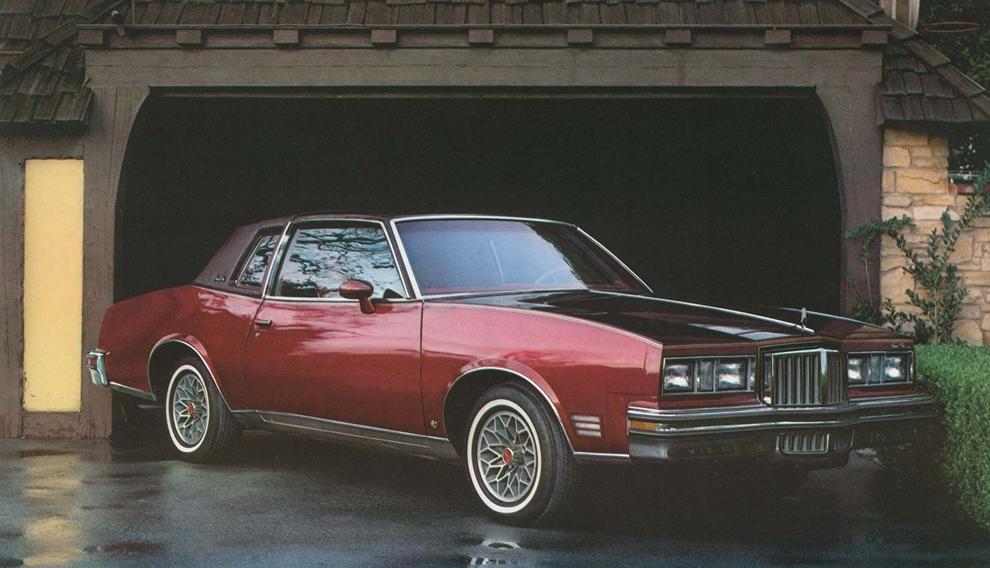 #4 – Classy Muscle Car: "The Grand Prix started in 1962. It was a personal luxury car, almost in competition with the [Ford] Thunderbird. It wouldn't have been for a young person," says Tim Dye, executive director of the Pontiac-Oakland Museum in Pontiac, Illinois, the world's only museum dedicated to Pontiac cars. "It would've been more for a middle-aged person that wanted a little class. It was a classy muscle car."
SOME STATS: The top-of-the-line Grand Prix was the LJ, which cost $5,815 in 1978. It weighed 3,216 pounds. "That year, they made 65,122 LJs. The SJ, which was the sporty version, they made 36,069. And the base Grand Prix, they made 127,253," says Dye, who is in the process of expanding his museum to a location in Pontiac, Michigan, where Pontiac was headquartered. The brand went out of business in 2009. The last Pontiac Grand Prix was made in 2008.
FITS THE BILL: Today, Grand Prix are more affordable as a collectible than some other Pontiac models, such as GTOs. "It's nothing to pay $50,000 or $60,000 for a '66 or '67 GTO, whereas you can buy a Grand Prix from $5,000 to $15,000 — though there may be exceptions to that on the earlier ones," Dye says. "For a '78, you could buy a pretty darn nice one for $5,000 to $10,000. Of course, a lowrider would spend a lot more money to customize it." ◀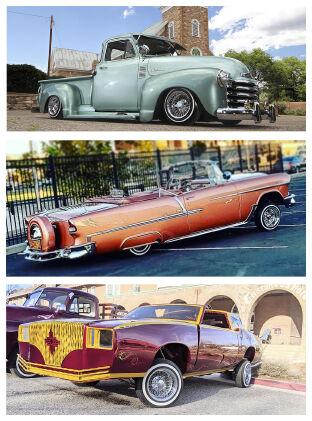 Edmundo Carrillo, 57, Pecos, NM
Car make and model: 1952 Chevy Custom Cab, also known as a 5-window pickup
"I grew up in San Diego. My dad had the truck in the 1970s, and I learned how to drive on it. He sold it to my uncle. In 1990, he passed away. We moved over here to New Mexico in 1992, and, in May of that year, I towed it from San Diego to Pecos. It ran, but it was in pretty rough shape."
Carlos Munoz, 43, Rio Rancho, NM
Car make and model: 1955 Chevrolet Bel Air
Color: Cisco's Sunburst ("It's champagne rose gold, but it's a custom color named for my brother, who is the main painter of the car.")
"It was a full restoration. We found it on the ditch, off Agua Fría [Street] in Santa Fe. We had to put a new floor, a new trunk pan. They were rotted out. We body-worked the whole car, and we saved the rest of the panels of the car. We restored all the parts. It has every nut and bolt brand new."
Mike Roybal, 53, Las Vegas, NM
Car make and model: 1978 Cutlass Supreme
Car name: "Going to Xtreemz New Mexico"
Car color: Candy Apple Red and Candy Gold
"I would say my favorite part's the suicide doors that are cut in a strip. They open up reverse and the doors are split on the bottom, so the lower half of the door is molded to the car. I haven't worked on that car for about 20 years, but I'm getting into redoing it totally again in a few years. I'm going to add neon lights to the interior."
We want to say thanks to the author of this write-up for this amazing content

Anatomy of a lowrider: New Mexico Lowrider Arte and Culture Exhibit