Highlights
According to Madhavi Mukherjee, there is no way to wear a mask while acting
Whether on the shooting floor or in the market, at least 50 percent of the people are breaking the rules
It is best to stay out of the house, wear a double mask, and avoid crowds and people as much as possible.
Other times: One of the important news of Tuesday, music empress Lata Mangeshkar has been attacked by Corona. He is being kept in the ICU of Breach Candy Hospital. The doctor of the hospital, Pratik Samadhani, clarified that Lata has been in the hospital since last Saturday night. He is suffering from corona as well as pneumonia. According to the family of the legend, he was at home before he was attacked by Corona. How reasonable is it to shoot with veteran actors and actresses in the final stages of the third wave when veterans are being attacked by Corona even from home?

Savitri Chatterjee shot a photo on Saturday. Shooting of his series is also going on. Picking up the phone and coughing profusely. The throat is broken. However, the actress said, 'I do not have a fever. So don't think so. I'm not just shooting, I'm just doing it. ' However, according to Madhabi Mukherjee, those who are over '75, it is better not to shoot now. There is no way to wear a mask while acting. The biggest thing is the shooting floor or the market, at least 50 percent of the people are breaking the rules. I don't want to shoot in such a situation. The same tune is in Lily Chakraborty's throat. 'Once I was infected with corona. If you do not do it a second time. I was supposed to do a picture of director Arnab Midya and Parandar (Paran Bandyopadhyay). Both of them said, I will not shoot now '. Chitra Sen has come up with a new character in 'Kharakuto' series. But he is also bent on seeing the situation. He said, 'Veteran actors and actresses should be careful. The risk is increasing. Even if shooting is allowed, if the elderly are affected by corona, it may not be possible for everyone to recover quickly! '
Dipankar Dey is shooting for the mega series 'Khukumani Home Delivery'. His wife Dolan Roy clarified, 'Personally, it would have been better to stop shooting for at least five days. Because don't shoot anyone on the shooting floor of any series. Although her mockup room is different. Most close shots are being taken. The shooting is not being crowded. Let's see if the shooting will stop for the next 16 days or so. Biswajit Chakraborty, a veteran actor of 'Mithai' series, was attacked by Corona in the meantime. Then he recovered.
'I am not Covirgin', said Swastika.
Why are Tollywood producers-managers taking so much risk? 'No one is being forced. Any veteran actor-actress can tell, he doesn't want to shoot. But if someone is shooting even after reaching the age of majority, then surely he is deciding after considering all the aspects', said a producer. As Soumitra Chatterjee said during the second wave, he voluntarily returned to the shooting floor. But that decision was not right, such regrets can be heard inside Tolipara.

Not a relief now, Lata Mangeshkar will have to spend next 10-12 days in ICU
According to medicine expert Arindam Biswas, 'It has been observed that the elderly are most at risk in Corona. It is older, usually with the co-morbidity of senior citizens. Therefore, if they are affected by corona, they are less likely to recover quickly. It's best to stay out of the house as much as possible, wear a double mask when out and avoid crowds and people as much as possible.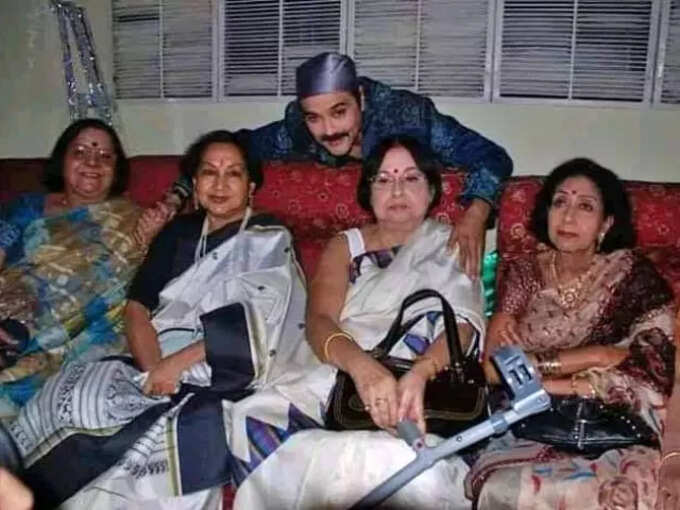 Photo courtesy – facebook / sabitri chatterjee
We wish to say thanks to the writer of this short article for this awesome material

Why veteran actors and actresses are taking risks